BIRCH is applying to BC Housing to the BC Housing Community Housing Fund this fall. Support from the Bowen community has been critical to our progress so far and we're hoping that you will make the time to help us again and send a letter of support by Oct 15th.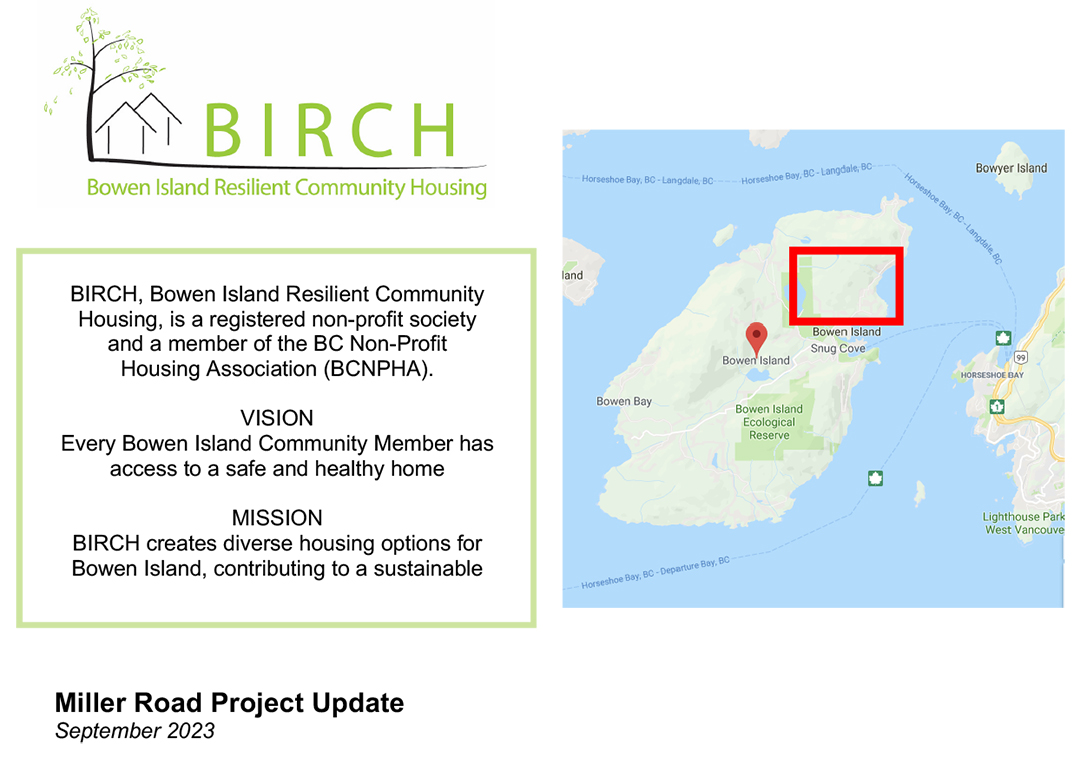 Click here to open our full backgrounder on the project and the ask.
Background
Bowen Island Resilient Community Housing (BIRCH) is the only non-profit housing society based on Bowen Island and is working to develop a more diverse range of housing options for our community.
We have land! Bowen Island Municipality has committed a 0.15 HA vacant parcel at 1033 Miller Road to build a community housing project with approximately 24 units of secure rental housing. With this land BIRCH will help build a more connected, resilient community by providing secure rental housing that will suit a variety of needs for Bowen Island community members, with a special focus on the Island's most vulnerable: those with mobility challenges, low-income families, individuals, and seniors, and moderate-income families.
The need for affordable and non-market housing in our community is well-known, confirmed by a Housing Needs Assessment completed in 2020 and BIRCH's own community housing surveys (2019, 2022). Additionally, the Bowen Island Community Foundation's Vital Conversations most recent gathering identified affordable housing as a priority.
This project will provide urgently needed rental housing stock that is has a variety of size and rent levels. Providing secure tenure in rental housing is critical to maintaining a diverse community.
The current housing situation on Bowen Island (updated with 2021 Census data)
90% single family homes
85% Ownership
21% owner households spending 30% or more of its income on shelter costs
35% of rental tenant households spending 30% or more of its income on shelter costs
MLS Home Price Index, September 2023, lists detached homes price at $1,210,700
This requires an annual income of $253,491.10 (calculated with 10% down, with payments at 30% of household income)
The median total income for households on Bowen is $111,000±
Funding
We are currently preparing to apply to the next round of BC Housing's Community Housing Fund. If we are successful in our application, we anticipate approximately $3.8m capital contribution that will be used to fund the construction of the project. In addition, we will be seeking funding from CMHC's National Co-Investment Fund as well as contributions from the Federation of Canadian Municipalities Green Municipal Fund to increase the energy efficiency and sustainability of the building.
Please send your letters of support to robyn@birchousing.org. We will collate them and submit them with the housing application. Your response by October 15th would be appreciated.

If you'd like a template for your letter, please click here.
Thank you so very much for your support. We cannot do this without you.

David McCullum
Board Chair
Bowen Island Resilient Community Housing