Collaborative Project:
Snug Cove Affordable Rental Housing
Updates:
At it's
February 19, 2019 meeting
, council approved a revived Mayor's Committee on Community Lands to take the next 30 days to review uses on all community lands, with priority on lot 3, for uses by the fire hall, the health centre and BIRCH. We look forward to engaging with the committee and moving forward with the project.
In parallel, we will commence working with our CitySpaces on the feasibility phase, and continue to work with BARC – our community engagement committee.
——
At its
October 9, 2018 meeting
, council approved the design for lot 3, allocating BIRCH 0.48 hectares of land for our project. Thank you to all the Councillors and Mayor for their support, as well as BIM staff for all their hard work.
We look forward to moving forward with a long term lease agreement and applying for seed funding to keep moving the project forward!
INTRODUCTION
BIRCH submitted a
Collaborative Project Pre-Application
with the municipality to develop and manage an affordable rental housing project on a portion of lot 3 of the community lands. The project will provide 20± units of secure rental housing for Bowen Island residents; units will be in a variety of sizes from studios, up to 3 bed family units (to be confirmed by the needs analysis/feasibility study). It could include commercial spaces on the ground floor if suitable.
The size will be approx. 16-18,000 sq.ft., in one large building, or multiple smaller buildings, depending on land and construction method selected.
BIRCH  presented to council at the
Monday April 23, 2018 9.30am meeting
, click to see the video of the meeting. Scroll down to item 4, at 9.55am and click on the camera icon to jump to the start of our presentation.
A big thank you to all those who wrote letters and attended the meeting in person, it was a full house!
GOALS
The goals of the project are to:
-provide 20± secure rental units for island residents on part of the community lands.
-have plans and funding in place by the end of 2018; with construction beginning in 2019 and completing in 2020.
-have BIRCH act as developer and manager, using community land provided by BIM, and a combination of government and private loans and funding to create a self-sufficient project.
-keep Bowen a vibrant and diverse community, by providing units of diverse sizes, at rents affordable to those living and working on island.
-fill a gap in the housing market, that is not being met by the private market.
-be creative and innovative in design, energy efficiency and use of resources.
HOW WILL THIS PROJECT BENEFIT THE COMMUNITY?
As stated throughout the
Official Community Plan
and
Island Plan 2018
we want to keep Bowen a vibrant and diverse community. To achieve this, we must have diverse and affordable housing options. Our proposed rental housing will meet the needs of many struggling to find suitable rentals, as well as helping local businesses attract and retain staff.
HOW WILL THIS PROJECT ENGAGE WITH THE COMMUNITY?
We have formed a Community Engagement Committee (BARC), that is an ongoing part of the planning process. The committee is made up of representatives from the community, from varied backgrounds.
The goal of this committee is to ensure community input on the project and gather ideas and perspectives from a variety of people, with a variety of backgrounds.
This project is for Bowen Islanders, present and future, and they should have a say in what it will be.
There is also the possibility of collaborations, such as gardens, art installations, etc for the project, so we would be looking to explore those opportunities as well.
WHERE IS THE PROPOSED LOCATION?
At its Oct 9, 2018 meeting Council has approved the design of lot 3, including areas for the firehall, health centre, commuter parking and BIRCH housing. They approved staff to proceed with subdivision.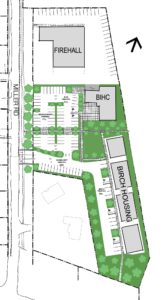 (please note, this plan is conceptual and  for discussion purposes only)
WHAT IS THE TIMELINE AND HOW WILL THIS PROJECT BE FUNDED?
Our next steps are to work with our development consultant –
CitySpaces
– and our recent funding from
VanCity Community Foundation
, and beginthe feasibility stage, planned to last approx. 3-4 months.
When complete, we will be ready to apply for seed funding from one or more funding partners for the next development stage.
We hope to begin design work mid 2019 with construction beginning early 2020 and the hopes of being open by the end of 2020 or early 2021. This will depend heavily on government funding, so we will update as we proceed.
WHAT ARE YOU ASKING OF THE MUNICIPALITY?
For the overall project, we request the municipality:
1) Provide a portion of Lot 3 of the community lands to BIRCH in a 90-year lease at a nominal rate with an option to renew;
2) Partner with BIRCH in approaching other levels of government for potential funding (BC Housing, CMHC, etc.)
3) Waive all municipal fees related to any rezoning, development and building on the property;
4) Provide municipal water and sewer service connections to the property line and waive any fees or costs related to the work; and
5) Waive any property taxes on the land until the project reaches occupancy.
Have more questions? You can use our
contact page
to get in touch. We will do our best to get back to you as soon as we can.